The 239,000 square foot, 3-story facility is a steel framed structure with open office space utilizing a raised access flooring system and modular office furniture for flexibility. The interior has an open atrium and stairways in common areas for ease of access between floors. Large skylights, open floor plan and window/curtainwall systems allow natural light to fill the building. The roof is a TPO system with a large roof garden for employee use. The facility is located on a 47 acre site and will accommodate 750 employees and allows for future expansion.
The new state-of-the-art headquarters includes Administration, Legal, Finance, Internal Audit, Marketing and Membership Development, Human Resources, Member Services, Credit Services, Information Technology and two mission critical data centers for PSECU's operations. Employee support spaces include a Daycare Center, Multi-purpose Room with locker facilities, a full Kitchen and Cafeteria.
This project has achieved LEED Gold certification!
LEED GOLD
2014 Forever-Green Award by USGBC Central PA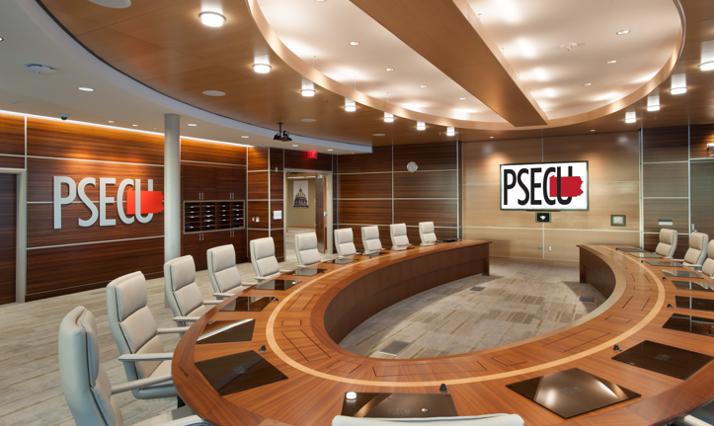 We've had the best experience working with Quandel. We don't have a lot of experience in building projects like this. It's an over $70 million construction effort and having Quandel to help us through the effort of managing the relationship with the general contractor and overseeing the work that was done meant that we were really more confident that our members' money was being spent in the proper way. I would highly recommend the work that Quandel does. We had just a tremendous relationship.
Greg Smith
President, PSECU